How do you make a firework painting out of toilet paper roll tubes? The answer is, SO easily! This toilet paper roll firework art project is fun and engaging for children of all ages. Who doesn't love creating art that is simple yet looks awesome?! This artwork is great to do to celebrate lots of different celebrations such as Guy Falks, Fourth of July, or New Year. They can even be turned into very special and eye-catching birthday cards.
Toilet Paper Roll Firework Art
This post contains affiliate links. These links add no cost to you but mean that we earn a commission through linked sales. This helps us to keep diyThought running. Thank you for your support!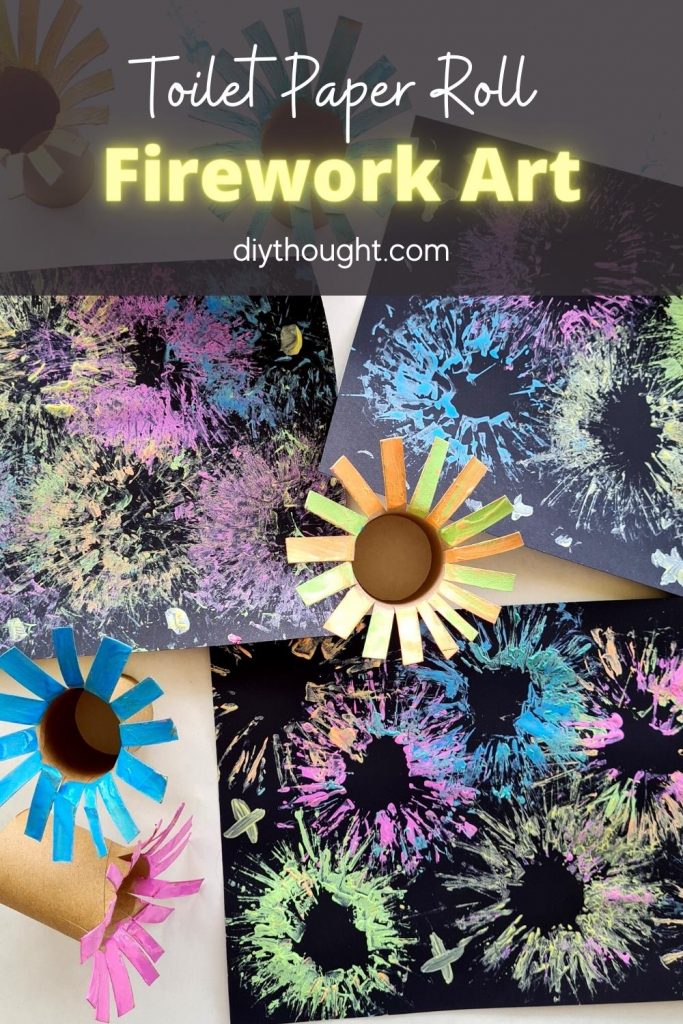 We have kept this activity as simple as possible but we do have a few suggestions if you would like to take this art activity to the next level. To make a variety of different firework stampers you can cut all the way up the toilet tube and reduce the size of the hole in the tube. Add extra wow by sprinkling glitter over the wet paint or adding on adhesive gems once your painting has dried. Our girls were in the mood for a quick art activity today so we kept it as simple as possible, it was still super fun and turned out really well.
Something to consider when setting up this activity is the color of cardstock/ paper you are using. We used black so some of the darker colors of paint that we used I added some white paint so they would stand out more against the dark background. Adding white paint is also a good way to stretch out the colors of paint. Our girls always want to use the smaller tubes of different color paints which don't go far with art projects such as this one so bulking it out with some cheap white paint means that the "exciting" colors last for longer! If you are using white paper then using darker shades of paint will look more impressive.
Finally, we used our normal art pallet and applied the paint onto the toilet paper tubes using paintbrushes. If you have younger children then using plates could be simpler as the firework stampers can be placed directly into the paint.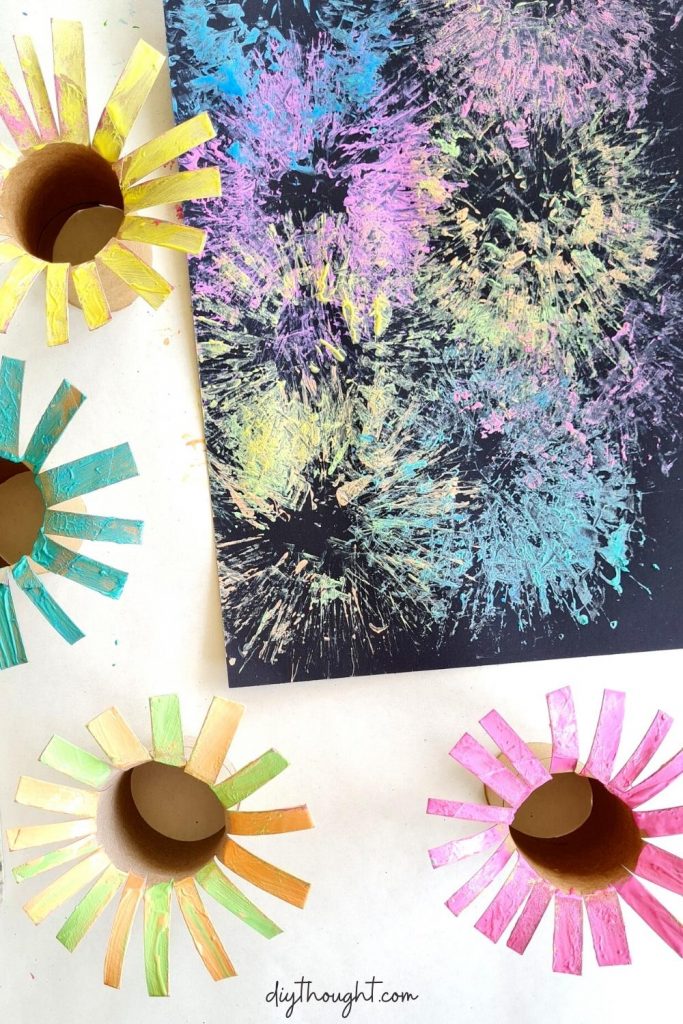 Materials Needed
Toilet paper rolls or other cardboard tubes
Scissors
Black cardstock or paper (or just use whatever color paper you already have at home)
Let's Get Arty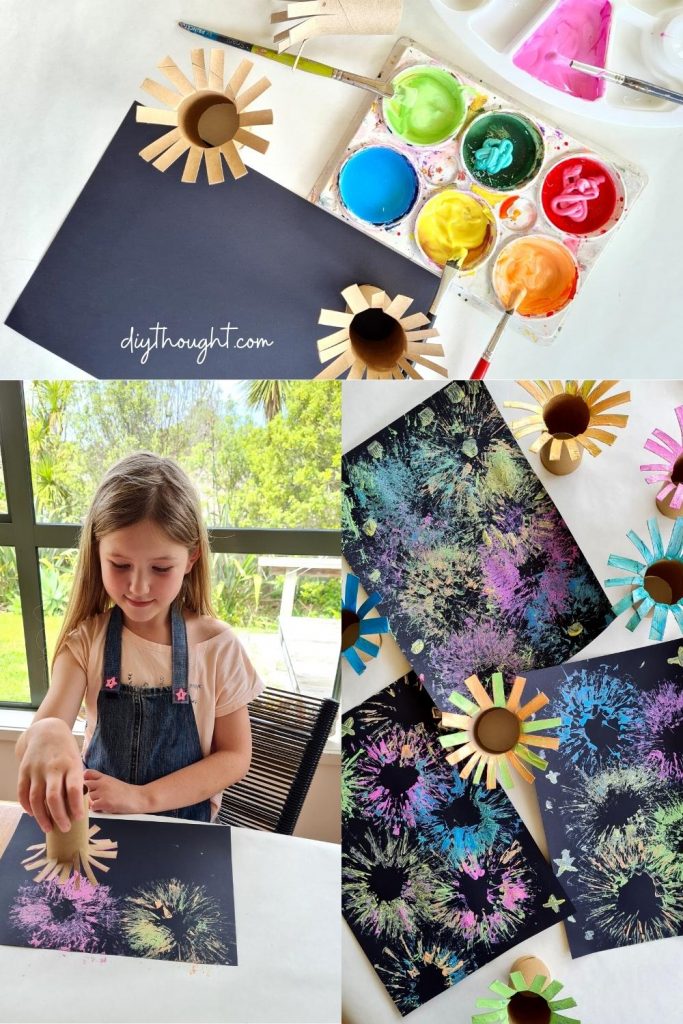 Start by setting up this activity. Place a tablecloth, butcher's paper, or newspaper onto a table to protect its surface. Gather all of the items listed under Materials Needed. Make the firework stampers from the toilet/ cardboard tubes. To make the firework stampers cut small snips around one end of a toilet paper roll tube. This doesn't need to be perfect but try to make the snips all be about the same length. Gently fan them out.
Put all of the paint colors that you are going to use out and add white paint to them if needed. If using plates you could do one color per firework stamper that you have made. This doesn't matter too much, but we tried to keep the colors separate so had a stamper for pink and another for yellow etc. For some of our fireworks, we purposely used different colors. Part of the fun was creating the different fireworks and seeing what colors worked well together! If using a pallet or small containers use brushes to apply the paint.
Make sure the toilet paper tube stamper bristles are completely covered in paint. Gently stamp onto the cardstock/ paper. Used a slight dab and twist motion and continue stamping until you are happy with your firework. Layer on different colors if desired and be creative! You can see on Miss 7's painting she really went for it with lots of dabbing she had an absolute blast and was delighted with her results.
If you enjoyed this you may also like to make your own Polar Bear Art using this same painting technique!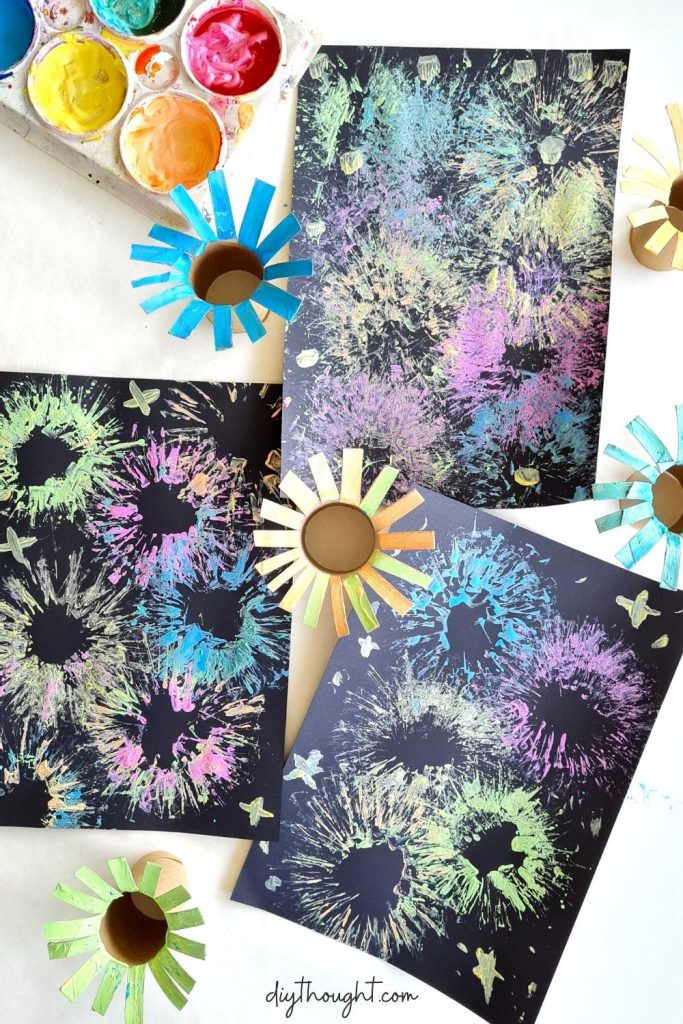 Other Fun Toilet Paper Roll Activities
Thank you for stopping by. We hope you had fun making this Toilet Paper Roll Firework Art today!