I love fudge but have very little success at making it, but this slow cooker fudge is different. Slow cooker fudge is SO simple to make and tastes great!
Slow cooker fudge is adaptable to what you have available. Made using dark, milk, white chocolate,  a combination of all three, or ANY other chocolate you like! The flavors are almost limitless. Once the fudge has cooked extra tasty bits or topping can be added. The most popular in our house is raisins and nuts but you could do candies, crushed cookies, caramel pieces or add peppermint or any other essence! Again almost anything can be added. Here I have made a peanut, cashew, and raisin fudge as well as a plain fudge with crushed candy canes but next on the list is a white chocolate and glace cherries. What flavor will you make, or are you a plain fudge fan?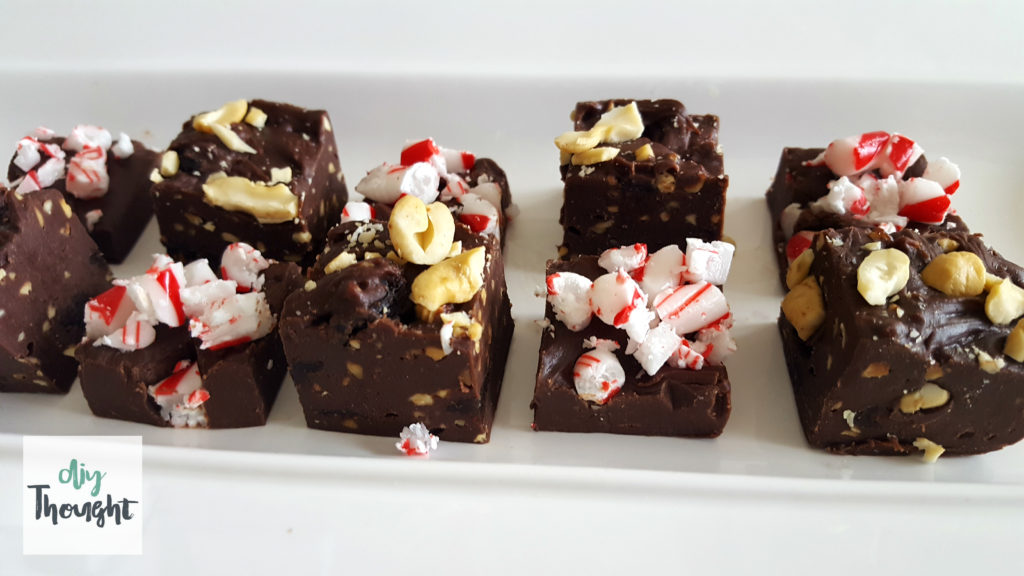 Slow Cooker Fudge
Ingredients
500g of chocolate. This doesn't have to be exact, I have made it with less chocolate and it has turned out fine but it is recommended to use a little extra if you are using only white chocolate.
1 tbs butter
1 tbs vanilla essence
395gm can condensed milk
Directions
Break up chocolate and add all ingredients into a slow cooker. Set to high, keep the lid OFF and mix with a metal spoon every 5 min until melted then reduce heat to low and mix every 10-15 minutes. Alternatively set to low and stir every 10-15 minutes (I am impatient and like to hurry things up). Slow cooker fudge will normally take between 1-2 hours to cook. Keep a close watch on it once it looks like it is almost cooked and stir more often.
The way I tell the fudge is cooked it by the texture. It thickens and starts to form a slight crust. Once it is cooked you can add any desired extra flavors and stir through, alternatively you can top the fudge with the extra flavors. Tip the fudge into a baking paper lined slice tray and put into the fridge until it is set.
Once set remove from the pan and cut.
Helpful Hints
Make sure to use a metal spoon as a wooden spoon can cause the fudge to seize.
DO NOT put the lid on the slow cooker while cooking it. Moisture can make the fudge seize.
If your fudge does seize try adding a splash of milk and give it a really good stir.
Slow cookers can vary quite a bit in cooking speed so if this is your first time making fudge with your slow cooker keep a watch on it and don't worry if it takes longer or shorter than the 1-2 hours.